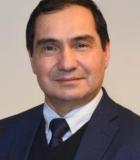 Profile / Bio:
Mr. Mukhtor Khamudkhanov is a Director of Energy Division of Asian Development Bank's (ADB) Pacific Department and is responsible for coordination of ADB's energy sector operations in the Pacific developing member countries. Prior to joining the Pacific Department in January 2021, he was a Country Director of ADB's Nepal Resident Mission (2017-2021) where he demonstrated knowledge and experience in policy dialogue, strategic and country operations planning, and worked on significant infrastructure projects, including hydropower and renewable energy, in Nepal. He served as Principal Energy Specialist, South Asia Energy Division (SAEN, 2011-2017), Senior Energy Specialist (SAEN, 2007-2011), Senior Planning and Policy Specialist (Strategy and Policy Department), and Portfolio Management Specialist in former Central Operations Services Office.
Mr. Khamudkhanov also possesses experience in teaching and research in electrical engineering. He has 33 scientific publications and one patent. Most of the publications deal with economics in power engineering, energy efficiency, renewable energy, and problems of optimal control and regulation of technical systems.
Mr. Khamudkhanov holds a Doctorate Degree in Technology (Electrical Engineering) from State Technical University, Uzbekistan, and Master's degrees in Financial Management from the University of London, United Kingdom, and in International Affairs (Economic Policy Management) from Columbia University, USA.