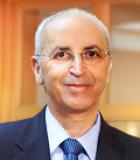 Technical Committee Chair
, Global Water Partnership
Profile / Bio:
Mohamed AIT KADI is presently President of the General Council of Agricultural Development. This Council is a high level policy Think Tank of the Ministry of Agriculture and Fisheries in Morocco. He was also Secretary General of the Ministry. Previously as Director General of the Irrigation Department he was in charge of the development and implementation of the National Irrigation Program. He was the Chief- agricultural negotiator of the free trade agreement between Morocco and the United States.
AIT KADI chairs the Technical Committee of the Global Water Partnership. He was Governor and founding member of the World Water Council and President of the organizing committee of the first World Water Forum held in Marrakech in 1997. He is honorary vice-president of the International Commission on Irrigation and Drainage (ICID) and Vice-president of its Moroccan National Committee (ANAFIDE).
He is a member of Hassan II Academy of Sciences and Technology. He serves as a member of the Consortium Board of CGIAR and the Board of Advisors of the World Agricultural Forum. He is Professor at the Institut of Agronomy and Veterinary Medecine Hassan II, Rabat. He is author of numerous publications in the fields of irrigation, water management and agriculture and rural development.