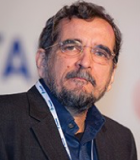 Distinguished Professor, School of Social Sciences and Humanities
Profile / Bio:
Mihir is a co-founder of Samaj Pragati Sahayog (SPS), one of India's largest grassroots initiatives for water and livelihood security, which works with 122 partners on a million acres of land across 72 districts in 12 states.
He was adviser to the commissioner appointed by the Supreme Court of India in the Right to Food case from 2002 to 2009. Mihir has combined 20 years of living and working at the grassroots level with academic research and policy advocacy. He has received national and international recognition for his work, including the Social Entrepreneur of the Year Award from the American India Foundation and the Doreen Mashler Award of the International Crops Research Institute for the Semi-Arid Tropics.