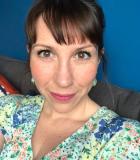 Public Health Promotion and Community Engagement Lead
Profile / Bio:
Michelle is originally from Manchester and works in Oxfam's Global Humanitarian Team specializing in public health during emergencies. In the last few years, she has worked in Iraq, Nepal, Sierra Leone, and Yemen, helping families to overcome poverty due to conflicts or natural disasters.
Michelle is currently deployed in a remote village in northeast Nigeria which has been affected by the armed conflict with Boko Haram.