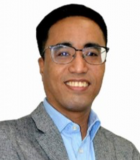 Asst. Vice-President & Chief Audit & Risk Executive
, Global-Estate Resorts, Inc.
Profile / Bio:
Michael "Mike" Roxas is currently the Chief Audit & Risk Executive of Global-Estate Resorts, Inc. (GERI) – a subsidiary of Megaworld Corporation.
Before joining GERI, Mike is the head of Risk Management & Insurance Division of Makati Development Corporation (MDC) – a wholly-owned subsidiary and the construction arm of Ayala Land, Incorporated (ALI). He directly reports to the Chief Finance Officer of MDC and functionally reports to the ALI Chief Risk Officer. He joined MDC in 2007 as a Senior Auditor. During his stint in the role, he championed several initiatives for MDC such as documentation and improvement of the Company's systems and procedures, establishment of the Enterprise-wide Risk Management program, development of Business Continuity Management, Lean Construction, and led the continued ISO triple certification of MDC to ISO International Standards ISO 9001 for Quality, ISO 14001 for Environment and OHSAS 18001 for Occupational Safety.   
Prior to MDC, Mike carried out a high-profile and dynamic career in auditing, assurance and consultancy in real estate, retail, manufacturing and telecommunications companies. He performed financial, operations and compliance audits including business process, project management, continuous monitoring, process mapping, and fraud investigations.
Mike holds a Master's in Business Administration degree at the Pamantasan ng Lungsod ng Maynila (University of the City of Manila). He is a Certified Lead Auditor for ISO 9001:2008 Quality Management System and ISO 14001:2004 Environmental Management System. Mike also completed and passed the Safety Program Audit, Loss Control Management and Construction Occupational Safety and Health (COSH) certifications. He also obtained the Certified Internal Control Auditor (CICA) title in February 2019
Mike has been a member of the Institute of Internal Auditors – Philippines (IIA-P) since 2009. He has been a resource public speaker since 2014 for IIA-Phils. and providing public and in-house seminars for the past 8 years.