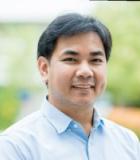 Managing R&D + Innovation in Artificial Intelligence & Machine Learning, Automation & Robotics, Energy & Sustainability
Profile / Bio:
Michael Lochinvar Sim Abundo is currently the Assistant Director and Programme Manager for the Saab-NTU Joint Lab. The Saab-NTU Joint Lab conducts R&D in technologies like autonomy, data analytics, machine learning, and systems engineering, thus staying at the forefront of digitalization by introducing high-end digital technology into its many products is essential to Saab's development.
Michael was previously (2016 to mid-2019) the Programme Integration Manager at the Rolls-Royce @ NTU Corporate Laboratory, a joint investment of ~S$88million (Phase 2 - 2019 to 2023) and S$75 million (Phase 1 - 2013 to 2018) by Nanyang Technological University, Rolls-Royce and the National Research Foundation, Prime Minister's Office, Singapore.
Michael did his Research Fellowship with the Wind and Marine Renewables Group in the Energy Research Institute @ Nanyang Technological University (ERI@N) from 2011 to 2016. He is also a Director at OceanPixel Pte Ltd, a spin-off company from ERI@N focusing on supporting the Marine Renewable Energy sector in South East Asia and beyond.
Michael's specialization fields include ocean renewable energy, environmental monitoring, biomedical engineering, data acquisition and telemetry, embedded systems, and integrated sensor design and prototyping. He is also interested in technopreneurship, product and method innovation, and enabling ecosystems for inclusive development of industries.
He completed his PhD in Electrical and Electronics Engineering focusing on Tidal In-Stream Energy and his MS in Electrical Engineering on Brain-Machine Interface (Instrumentation and Control). He has served as a faculty member and research laboratory head for the Instrumentation, Robotics, and Controls Laboratory at EEEI, University of the Philippines, Diliman. He actively holds directorships in technology companies in the Philippines.