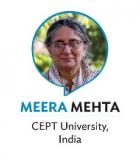 Profile / Bio:
Meera is a Professor Emeritus at CEPT University and the Executive Director of the university's Center for Water and Sanitation. She is also currently a member of the supervisory board of IRC, a global not-for-profit organization, and one of the editors for the water, sanitation, and hygiene (WASH) development journal of the International Water Association.
She has over 45 years of experience in water, urban development, and infrastructure finance, working in countries in Asia and sub-Saharan Africa. This includes working with the United States Agency for International Development (USAID) in India for the financial institution's reform and expansion project (FIRE-D), and with the World Bank for its Water and Sanitation Program in Africa. In 2008, she spearheaded the Performance Assessment System (PAS) Project of CEPT University's Center for Water and Sanitation. This activity now covers 6 states and 900+ cities in India and has become a major urban water and sanitation database.
Meera has consulted widely for national and international agencies, including the Asian Development Bank, the United Kingdom's Department for International Development, UNICEF, USAID, WaterAid, World Health Organization, and the World Bank. Previously, she was on the board of the Stockholm-based inter-governmental organization Global Water Partnership.