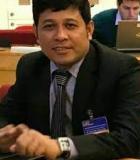 , Ministry of Labour and Employment, Bangladesh
Profile / Bio:
Ruhul Amin is the Deputy Secretary of Deputy Secretary Economic Relations Division of the Government of Bangladesh. Before becoming a Deputy Secretary, he also worked as the First Secretary of the
First Secretary National Board of Revenue. 
He graduated from Dhakka University with a Master's in International Relations.