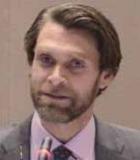 Profile / Bio:
Matthew, an urban planner and specialist in green cities, has been a consultant and researcher for more than 20 years working from New York, Melbourne, and London. He is presently a Programme Manager at the UNEP Finance Initiative where he works with leading private investors and banks on innovative strategies and practices for the finance and management of sustainable property. Prior to UNEP FI, he was involved in the UN-Habitat Energy Efficiency in Buildings in East Africa (EEBEA) initiative, advising on finance instruments for green buildings and distributed renewable energy; and was a contributing researcher and author on multiple projects addressing green urban growth and green economy of cities from the London School of Economics' LSE Cities research institute. Matthew has presented at numerous forums on green building rating tools, green property retrofits, building energy efficiency, and distributed renewable energy.
-----
Ulterino先生是城市规划师和绿色城市专家,在纽约、墨尔本和伦敦工作20余年间担任顾问和研究员。他目前是环境规划署 金融倡议的项目经理,与领先的私人投资者和银行合作共同致力于可持续资产融资和管理的创新战略和实践。在加入环境 规划署金融倡议之前,他参与了联合国人居署的"提高东非建筑能源效率计划",就绿色建筑和分布式可再生能源的金融工 具提供咨询,并且是伦敦政治经济学院城市研究中心多个项目的研究员和作者,主要研究绿色城市发展和城市绿色经济。此 外,Ulterino先生在许多关于绿色建筑评级工具、绿色地产改造、建筑能效和分布式可再生能源的论坛上发表过演讲。
-----
Мэтью, специалист по городскому планированию и специалист по зеленым городам, более 20 лет работал консультантом и исследователем в Нью-Йорке, Мельбурне и Лондоне. В настоящее время он является руководителем программы Финансовой инициативы ЮНЭП (Программа ООН по окружающей среде), где он работает над инновационными стратегиями, практиками финансирования и управлением устойчивой собственностью в сотрудничестве с ведущими частными инвесторами и банкам. До финансовой инициативы ЮНЭП он участвовал в инициативе «ООН-Хабитат» по направлению энергоэффективности зданий в Восточной Африке (EEBEA), консультируя по инструментам финансирования зеленых зданий и вопросам распределенной возобновляемой энергетики; был одним из исследователей и авторов множества проектов, посвященных зеленому городскому росту и зеленой экономике городов, выступая представителем исследовательского института «Cities» Лондонской школы экономики. Мэтью выступал на многочисленных форумах, посвященных инструментам рейтинга экологически чистых зданий, модернизации экологически чистых объектов, энергоэффективности зданий и распределенной возобновляемой энергетики.
LinkedIn:
https://www.linkedin.com/in/matthew-ulterino-59a27711/