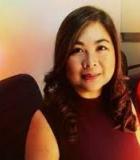 Vice President for Sustainability
Profile / Bio:
Garin-Alvarez joins as vice-president for sustainability reporting at BDO, Unibank after 11 years at Thomson Reuters, where she built and led the news and business information services provider's strategies on gender inclusion, social impact, and corporate social responsibility first in Asia, then globally.
Her new role includes measuring and managing the environmental and social impact of the Philippines' largest commercial bank, which published its first standalone sustainability report in 2018. Over a career of 13 years, she has held corporate communications roles at tech firm Intel Corporation and local food and beverage giant San Miguel Corporation.