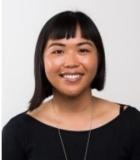 Senior Project Officer (Urban Development)
Profile / Bio:
Maria is an engineer with over ten years' experience working with regional, rural, and vulnerable communities to access critical services such as water and sanitation. Her recent work in Nauru working in the water, sanitation, and solid waste management sectors particularly highlights the unique way in which these services can impact nutrition, agriculture, and climate-resilience. Maria has experiences in combining urban agriculture with water and sanitation solutions for the climate resilient and nutrition- smart recovery of Nauru.
Maria seeks a water industry that represents and reflects the communities it serves. She is passionate about advocating for regional, rural, and vulnerable communities that face high barriers to water and sanitation access through their remoteness and low resource capacity. She seeks to ensure that no one is left behind, and that everyone is able to live a life of opportunity. Maria firmly believes that a sustainable world is built on the principles of human-centred design, collaboration, and a celebration of the communities and cultures that exist within it.