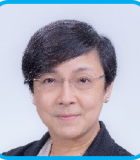 Director, Macao Government Tourism Office; Executive Board Member
, Pacific Asia Travel Association
Profile / Bio:
Maria Helena de Senna Fernandes came aboard in 1988 to engage in organizing various marketing and promotional activities at the Department of Marketing of Macao Government Tourism Office (MGTO).
In 1998, she became Deputy Director, carrying on her dedication to destination marketing, and was appointed as MGTO Director in December 2012. She received the Medal of Merit—Tourism from the Macao SAR Government in 2016.
She is a member of the Tourism Development Committee, Economic Development Committee, Cultural Advisory Committee, Committee of Cultural Industries, Urban Planning Committee, and Investment Committee in Macao, as well as a non-voting member of the Executive Board of the Pacific Asia Travel Association.