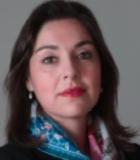 Regional Managing Director, Lower Mekong
, U.S. Development Finance Corporation (DFC)
Profile / Bio:
Maria Goravanchi is a Managing Director at the U.S. International Development Finance Corporation's (DFC), formerly the Overseas Private Investment Corporation (OPIC). As DFC's regional representative based in Bangkok, she is responsible for business development in the Lower Mekong, specifically Cambodia, Laos, Myanmar, Vietnam, and Thailand. Ms. Goravanchi brings over 15 years of private and public sector finance experience in underwriting, structuring and negotiating investments in emerging and frontier-market nations.
She is focused on providing both financing and insurance solutions for ong-term investments that strengthen DFC contributions to international development in sectors such as clean energy, infrastructure, and inclusive financial services.
Prior to joining OPIC in 2008, she worked as a strategy consultant and project manager on cross-border transactions in emerging markets with IBM Business Consulting Services and Abt Associates. Ms. Goravanchi is a graduate of the University of Pennsylvania and Georgetown University.