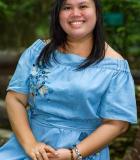 Knowledge Management Specialist (Consultant)
Profile / Bio:
Maria Cecilia T. Sicangco is a Climate Change Law and Policy Specialist/Knowledge Management Specialist (Consultant) under the Law and Policy Reform Program of the Asian Development Bank (ADB). Her work includes environmental law, climate change law and policy, women's legal literacy and access to justice in Islamic countries, gender sensitization, and energy and water sector regulation in Southeast Asia and small-island developing states in the Pacific.
Prior to joining ADB, Cecille was a Fellow at the International Development Law Organization (IDLO), an international organization headquartered in Rome, Italy. She edited the publication Consumer Protection and Microfinance – Country Reports, a book that discusses the current state of the microfinance industry in India, Colombia, Kenya, and Cameroon, and sets forth legislative and policy recommendations to better protect microfinance consumers. She also collaborated on an academic research project regarding the international normative and administrative drivers of domestic rule of law.
Cecille holds a Bachelor of Applied Economics and Accountancy double degree (cum laude) from De La Salle University and a Bachelor of Laws degree (cum laude, salutatorian) from the University of the Philippines. Thereafter, she pursued a Master of Laws in International Legal Studies degree from New York University where she was the Starr Foundation Global Scholar, Hauser Scholar, and
Thomas M. Franck Scholar in International Law. She is qualified as an Attorney and Counsellor at Law in the State of New York (United States of America) and the Republic of the Philippines.