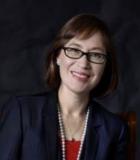 Director General Sustainable Development and Climate Division
Profile / Bio:
Locsin assumed the position of Director General at the SDCC in July 2014. Prior to this, she assumed various positions including Head of the Office of Co-financing Operations (OCO); Deputy Director-General, South Asia Department; Deputy Director-General, RSDD; and Director of OCO. Prior to joining ADB in 1997, she worked at the International Finance Corporation, United States, and the World Bank for 7 years. She has a Master's degree in Business Administration from Georgetown University, Washington, DC, United States, and a Bachelor's degree in Economics from the University of the Philippines.
She left her position as Special Senior Advisor at the Office of the President in March 2022.