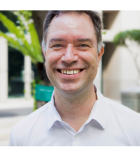 Profile / Bio:
Marc has worked in the knowledge and technology innovation for development context since 1998.
Marc currently works at the Asian Development Bank (ADB) as Principal IT specialist (technology innovation), based at ADB headquarter in Manila, Philippines.
Marc advises and supports ADB with its 2030 digital agenda, by designing and implementing ADB's digital sandboxes programme, an initiative aiming at using emerging digital technologies like artificial intelligence, blockchain and robotics to future-proof ADB and support its transformation into an agile organization.
Prior to this position, Marc worked for the United Nations as UNDP innovation advisor in Africa, based in Addis Ababa, Ethiopia. Marc advised the 46 countries under the UNDP Africa region to develop, sustain and implement innovative initiatives. Managing the UNDP Africa innovation fund, Marc provided policy guidance to countries interested to develop innovation initiatives.
Marc's previous experiences includes Uganda Country Manager for the International Institute for Communication and Development (IICD), advisor to national ICT strategy formulation in Somalia, regional director for Africa and Middle East of a Canadian international NGO working in ICT for Development.
Previously, Marc has spent 7 years with UNDP in information and knowledge for development, including deputy regional coordinator for ICTDAR, the UNDP programme on ICT for Development in the Arab region, advisor for UNDP Afghanistan for all ICT related activities and information systems engineer for UNDP Asia Pacific Development Information Programme (APDIP).
Since he started to work in the field of Knowledge and Technology for Development, Marc has worked in about fifty countries in Asia, Middle East and Africa, to design and implement projects linking sustainable development with knowledge and technology innovation.
Marc's work has been featured on CNN, BBC, the Wall Street Journal and other global and local media.
Holding both French and Canadian nationalities, married with a son and two daughters, Marc holds a Masters degree in Network engineering from a French University.