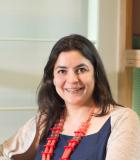 Profile / Bio:
Manisha Dogra is senior business sustainability professional with extensive operational and strategic experience in Asia.  
Manisha is currently the Vice President, Head of Sustainability Asia at Telenor Group. Prior to this, she was heading Telenor Group's Supply Chain Sustainability and Human Rights functions globally.
Her Telenor journey started in 2009 in India and since then she has contributed in various roles within Sustainability across South Asia and the Asia Pacific. Her vast experience has included setting up and operationalizing the Sustainability function in Telenor Myanmar before the commercial launch where she continued to grow and develop the responsible business framework with a focus on the supply chain for the first 3 years of operations while being based in Yangon from 2013-2015.
She has been central in setting up Telenor's global partnership projects focused on Skills for a digital future with UNICEF and Plan International in Asia and also be working extensively on business and Human Rights issues across the region as well as supporting Telenor's global commitments to UN Sustainable Development Goals.
Prior to joining Telenor, Manisha amassed operational experience within the Indian aviation sector.
Having lived and worked in India, Myanmar, and Thailand she based in Singapore since 2018.