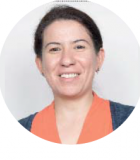 Profile / Bio:
Mahinakhon Suleymanova is the executive director of the agricultural advisory company, Neksigol Mushovir, which is a member of the Central Asia and the Caucasus Forum for Rural Advisory Services, and the national representative of the World Summit Award Mobile Content in Tajikistan. At Neksigol Mushovir, Mahinakhon leads a team of software engineers and agronomists that introduce ICT-based tools to agribusiness, such as SMS-based agroconsulting systems, mobile applications, online agricultural maps, market pricing systems, e-trade platform and sensors and chips programming for agriculture.
Mahinakhon joined Neksigol Mushovir from Save the Children, where she served as are program manager and led implementation of education projects, including the development of an education management information system.
Prior to Save the Children, she was a lecturer of computer science at the Technological University of Tajikistan. Mahinakhon holds a software engineering degree from the Technological University of Tajikistan. Mahinakhon also interned at SIEMENS AG in Germany.