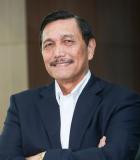 , Maritime Affairs and Investment, Indonesia
Profile / Bio:
Gen. (ret) Luhut Binsar Pandjaitan began his career in the Indonesian National Armed Forces until his retirement in 1999. Following that, he has had a longstanding political career and was previously the Presidential Chief of Staff for President Joko Widodo until his appointment as the Coordinating Minister for Politics, Law, and Security in September 2011 which was followed by his appointment as the Coordinating Minister for Maritime Affairs in July 2016.
In 2019, he was appointed as Coordinating Minister for Maritime Affairs and Investment for the "Onward Indonesia Cabinet.". Under this new role, he is responsible for coordinating the following line ministries: i) Energy and Mineral Resources, ii) Environment and Forestry, iii) Transportation, iv) Marine Affairs and Fisheries, v) Public Works and Public Housing, vi) Tourism and Creative Economy, and vii) the Indonesian Investment Coordinating Board (BKPM). One of his many focus areas in his role as Coordinating Minister for the next five years includes coordinating the dynamic marine debris agenda.