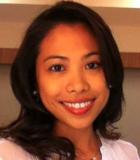 Senior Advisor on Sustainable Consumption and Production in South East Asia, China, and Mongolia
, SWITCH-Asia SCP Facility
Profile / Bio:
Loraine Gatlabayan is currently an SCP Expert in the SWITCH-Asia Sustainable Consumption and Production Facility supported by the European Union. She did consultancy work from 2013-2018 in the Asian Development Bank, the United Nations Environment Programme - Regional Office in Asia and Pacific based in Bangkok, Thailand and the Asia-Pacific Roundtable on Sustainable Consumption and Production (APRSCP) activities, where she is currently treasurer and board member.
She has also worked at the Climate Change Commission (CCC) the Philippines as Division Chief for Knowledge Management, Director of the Center for Social Policy in the Ateneo School of Government, Ateneo de Manila University, Philippines, and lead various regional, national, and local projects focusing biosafety, access rights in environmental decision- making, transparency and accountability, climate change, and resource efficiency.
She holds a Masters Degree in Politics of Sustainable Development from Keele University, UK, and obtained her Bachelor of Arts Degree in European Studies, Business Management Track, Ateneo de Manila University, Manila.