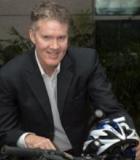 Senior Urban Development Specialist (Transport)
Profile / Bio:
 Lloyd Wright is currently a Senior Urban Development Specialist (Transport) within the Central and West Asia Department at the Asian Development Bank (ADB).
Mr. Wright assists in the implementation of sustainable urban mobility projects in the Central and West Asia region. Mr. Wright is particularly supporting the development of new initiatives for quality urban public transport systems and non-motorized transport integration.
Mr. Wright has previously worked with the Institute for Transportation & Development Policy, US Agency for International Development, International Institute for Energy Conservation, and the US Environmental Protection Agency. He is the author and editor of several sustainable transport publications, including Car-Free Development and the Bus Rapid Transit Planning Guide.
Mr. Wright has conducted post-graduate research as a Gakushin Fellow at Osaka University (Japan). He conducted his PhD studies in transportation planning at the Bartlett School of Planning at University College London. He also possesses an MSc with Distinction in Environmental Assessment from the London School of Economics, an MBA with Honours from Georgetown University, and a BSc with Honours in Engineering from the University of Washington.