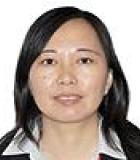 Office of the Secretary Advisor
Profile / Bio:
Lin Lu is appointed Advisor, SEC and Head, Information Access Unit, Office of the Secretary (SEC), effective upon assumption of office. Ms. Lu, a national of the People's Republic of China, holds a Doctorate and a Master's degree in Mechanical Engineering, from Drexel University and Temple University, USA, respectively. She also holds a Master's degree and a Bachelor's degree in Thermal Energy Engineering from Northeastern University and the University of Science and Technology of Beijing, respectively, in the People's Republic of China.
Lin Lu has 16 years of professional experience including over 10 years in ADB. She joined ADB in February 2012 as an Energy Specialist in CWEN and has since held increasingly responsible positions in EAEN and SDOD. She is currently a Principal Operations Coordination Specialist in SDOD, where she effectively led quality assurance initiatives on operational documents, and oversight of compliance with relevant business processes, guidelines, and staff instructions. She developed action plans and guidelines to improve the flow of documents and events preparation and thematic work. She has played an important role in coordinating the implementation of ADB-wide strategies, policy, and results-management initiatives in line with Strategy 2030 and Development Effectiveness Reviews. Prior to joining ADB, she worked as a Business Development Manager with HollySys Asia Pacific in Singapore/Philippines; was an Electrical Engineer in MDCI Automation; and was a System Engineer in Scientific Products & Systems in the United States.
Lin Lu has an in-depth understanding and experience in information and disclosure management. Her multi-dimensional experience spanning ADB operations, supporting policy and strategy development, and understanding of corporate initiatives such as CTI will enable her to achieve IAU's vision, goals, strategies, and work plan to support SEC and ADB's overall goals.