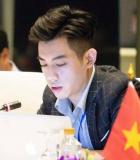 Viet Nam Focal Point, ASEAN Coordinating Committee on E-commerce
, Ministry of Industry and Trade, Viet Nam
Profile / Bio:
Mr. Le The Phuc is currently working for the International Cooperation Division under the E-commerce and Digital Economy Agency, Viet Nam Ministry of Industry and Trade. At the current position, Mr. Phuc is responsible for e-commerce and digital trade related matters in ASEAN region as well as in Viet Nam.
With 3 years of experience working at the Ministry of Industry and Trade especially in e-commerce field, Mr. Phuc also participated in some regional trade agreements and free trade agreements such as ASEAN Australia New Zealand Free Trade Area, Regional Comprehensive Economic Partnership and Viet Nam–Israel Free Trade Agreement.
Mr. Phuc received a scholarship from the University of Auckland, New Zealand to attend international business and finance courses, and is currently taking his master's degree in economic management at the Academy of Finance in Viet Nam.