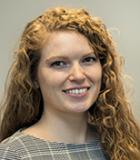 , IHE Delft Institute for Water Education
Profile / Bio:
Lauren Zielinski is a project assistant for the Water Accounting and Water Productivity Team under the Land and Water Management Department at IHE Delft, where she contributes to technical and project management activities.
Lauren holds a Bachelor of Science in Earth and Environmental Engineering with a concentration in Water Resources and Climate Risk from Columbia University in the USA, as well as an Erasmus Mundus Master of Science in Ecohydrology from the University of Lodz in Poland, the Federal University of Espirito Santo in Brazil, and IHE Delft Institute for Water Education in the Netherlands.
In her previous work, she specialized in the monitoring and evaluation of river systems, focusing on river restoration and environmental flow projects. Most recently, she was a project coordinator for IHE Delft in the Hydrology and Water Resources chairgroup, coordinating environmental flow and water allocation projects in the Rufiji and Mara River Basins in Tanzania and the Oueme Delta in Benin. She also spent two years leading an ecosystem monitoring team, focusing on river and wetland restoration projects in the Lake Tahoe Basin in California. She has experience developing resource management plans and environmental impact statements for federal agencies in the USA, including managing public scoping and comment response efforts. In 2017, she was the recipient of the Emerging River Professional Award from the International RiverFoundation for her work on developing a monitoring and adaptive management program for implementing environmental flows in Kenya.