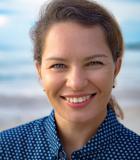 Energy Efficiency Policy Analyst
Profile / Bio:
Ksenia Petrichenko is a Policy Analyst with the International Energy Agency (IEA), where she is leading the work of the Energy Efficiency Division related to buildings. Her work includes analytical work, capacity building and policy advice for emerging economies on transition towards net-zero carbon building and construction sector. 
Prior to joining the IEA, Ksenia served as an Economic Affairs Officer with the Energy Division of the United Nations Economic and Social Commission for Asia and the Pacific (ESCAP). At the ESCAP Ksenia led the project activities in the areas of sustainable cooling and low-carbon cities to support ESCAP member States in achieving Sustainable Development Goal 7 on sustainable energy through policy-oriented analytical work and capacity building.
Before her work with ESCAP Ksenia worked as a Senior Advisor at the Copenhagen Centre on Energy Efficiency (C2E2) conducting policy-oriented research on energy efficiency and renewable energy. 
Ksenia holds a PhD and a Master's degrees in Environmental Sciences from Central European University, as well as Master's in Economics in the Energy Sector from the Higher School of Economics (Moscow).