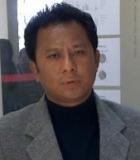 Profile / Bio:
Krishan Singh Rautela is working as Associate Project Officer in the Agriculture and Natural Resources team of ADB's India Resident Mission. He is working on agriculture value chain development, farmer producer organizations, digital agriculture, climate change, coastal protection, irrigation and public-private partnership initiatives of ADB.
He has more than 20 years of multi-disciplinary & multi-sector experience both in the private and public sector in various roles including as an entrepreneur and consultant to government and international organizations.
He has a Master's degree in International Business from the Indian Institute of Foreign Trade (Delhi ) & a Bachelors degree in Computer Science in Technology from the University of Roorkee. He has professional experience in the area of IT, apparel, Agri-Business, Public-Private Partnership in the sectors like Agriculture, Urban Development, Health, Education, Tourism & Transport etc.