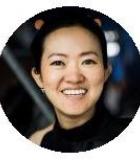 , LandProcess/ Porous City Network Thailand
Profile / Bio:
Kotchakorn Voraakhom is a landscape architect from Thailand who works on building productive green public space that tackles climate change in urban dense areas and climate-vulnerable communities.
Winning a contract to build Bangkok's first public park in three decades, she created an 11-acre "thirsty" plot capable of absorbing 1 million gallons of water through a combination of sloped gardens, wetlands, and a retention pond. Later this year, her firm, opened a 36-acre park featuring the biggest urban farming green roof in Asia.
Voraakhom is featured in the 2019 TIME 100 Next—a list from TIME Magazine that spotlights 100 rising stars who are shaping the future of the world. She is also on the list of 15 women fighting against climate change. Voraakhom is a chairwoman on the landscape without the border of the International Federation of Landscape Architects, Asia Pacific Region (IFLA APR). She is a TED Fellow, Echoing Green Climate Fellow, Atlantic Fellow. She received her master's in landscape architecture from Harvard University's Graduate School of Design.