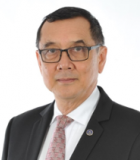 , Thai Bankers' Association
Profile / Bio:
Kobsak Duangdee has been the Secretary General of the Thai Bankers' Association (TBA) since January 1, 2015. He has BA in Accountancy (Banking and Finance) from Chulalongkorn University, Thailand and MBA (Finance) from University of Tennessee, Knoxville, USA.
Kobsak has extensive experiences in finance and banking from both local and international financial institutions. He started his banking career with Siam Commercial Bank before joining Bank of Thailand. Then he spent more than 30 years with Scotiabank, Canada, leading businesses in Thailand, Lao PDR, Cambodia, and Myanmar. Later on, he was a Board Member of Thanachart Bank and Thanachart Securities. He also represents Thailand in the APEC Business Advisory Council (ABAC), ASEAN Business Advisory Council (ASEAN-BAC), and East Asia Business Advisory Council (EABC). In addition, he is a project leader of the ASEAN-BAC Digital Trade Connect.