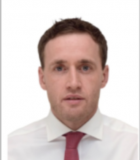 Principal Procurement Specialist
Profile / Bio:
Mr. Kevin Moore is a Principal Procurement Specialist in the Asian Development Bank. He provides procurement associated support to ADB funded projects in the South East Asia Region. Kevin is part of the ADB team currently rolling out the new ADB Procurement Policy and Regulations to host governments in ADBs Developing Member Countries.
Kevin is an experienced Civil Engineer, and Procurement Specialist. Prior to joining ADB, he worked for the United Nations World Food Programme for 7.5 years, initially as Engineering Project Manager and subsequently as Procurement Officer covering global construction procurement for the organisation. Before working in the public sector, Kevin was a Senior Design Engineer for a consulting engineering firm in Ireland working on large-scale road projects. Kevin started his career as an Engineer with Mott MacDonald in Belfast, Northern Ireland
Kevin holds a Master of Science in Project and Programme Management and an Honours Degree in Civil Engineering. He is a Chartered Engineer and a member of the Chartered Institute of Purchasing and Supply.