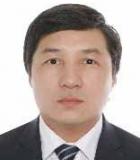 Project Officer, Kazakhstan Resident Mission
Profile / Bio:
Mr. Kenzhekhan Abuov is a Project Officer working at the Kazakhstan Resident Mission, Central and West Asia Department of the Asian Development Bank. He is working closely with the Government of the Republic of Kazakhstan in various sectors such as water, agriculture, renewable energy and environment as well as social sector development. He processed and managed various technical assistance and coordination with the executive agencies loan projects relating to water and agriculture sectors. He is also involved in ongoing low carbon city development projects in Kazakhstan, promoting sustainable development of the city of Nur-Sultan. He has more than seven years of experience in regional cooperation in Central Asia, working with different government agencies and having participated in the establishment of the first economic corridor development project. Prior to joining ADB, he worked in different ministries of the Government of Kazakhstan including the Ministry of Tourism Development; Ministry of Economy and Budget Planning; and Ministry of Social Protection responsible for policy and strategy development. He holds a Master of Public Policy from the Korea Development Institute (KDI) School of Public Policy and Management in Republic of Korea and bachelor's degree in Economics from Zhezkazgan University in Kazakhstan.
-----
Kenzhekhan Abuov先生是亚洲开发银行中西亚部哈萨克斯坦驻地代表处的项目官员。他与哈萨克斯坦共和国政府在水、农业、 可再生能源和环境以及社会部门发展等各个部门密切合作。他负责处理和管理水和农业部门贷款项目的各种技术援助和协调。 他还参与了哈萨克斯坦正在进行的低碳城市发展项目,致力于促进努尔苏丹市的可持续发展。他在中亚区域合作领域拥有七年 以上的经验,与不同的政府机构合作,并参与建立了第一个经济走廊发展项目。在加入亚行之前,他曾在哈萨克斯坦政府的不 同部门工作,包括旅游发展部、经济和预算规划部和社会保障部(负责政策和战略的制定)。他拥有韩国发展研究院(KDI)公 共政策硕士学位和哈萨克斯坦杰兹卡兹甘大学经济学学士学位。
-----
Г-н Кенжехан Абуов является координатором проектов в Представительстве АБР в Казахстане, Департаменте Центральной и Западной Азии АБР. Тесно работает с правительством Республики Казахстан в различных секторах, таких как водоснабжение, сельское хозяйство, возобновляемая энергия и окружающая среда, а также развитие социального сектора. Занимался подготовкой и управлением рядом мероприятий технической помощи и координацией инвестиционных проектов с исполнительными агентствами в сфере водоснабжения и сельского хозяйства. Также задействован в текущих проектах по развитию низкоуглеродных городов в Казахстане, продвижению
устойчивого развития города Нур-Султан. В течение более семи лет координировал региональное сотрудничество в Центральной Азии, работая с различными государственными органами и участвуя в создании первого проекта по развитию экономического коридора. До прихода в АБР работал в различных министерствах Республики Казахстан, включая Министерство развития туризма, Министерство экономики и бюджетного планирования и Министерство социальной защиты, где он отвечал за вопросы разработки политики и стратегий. Получил степень магистра государственного управления в Школе государственного управления Института развития Кореи (Республика Корея) и степень бакалавра экономики в Жезказганском университете в Казахстане.