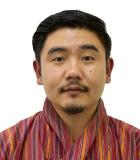 Deputy Chief Legal Officer
, Anti-corruption Commission of Bhutan, Bhutan
Profile / Bio:
Mr. Jamtsho joined the Anti-Corruption Commission on 1st January 2013 and was appointed as the Officiating Chief of the Legal Division in 2014. Since then, he havs served in the position with all three Commissions to date.
As the Offtg. Chief of the Legal Division of ACC, he renders legal opinions to the Commission and drafting of Rules and Regulations and other legal instruments. He is mostly involved in the supervision of complex and high-profile cases, review of investigation reports, proposing probable charges and other written advisories for the Commission and in the joint prosecution of high-profile corruption cases, whenever necessary. Besides, he also carried out numerous advocacy and awareness programs on Anti-Corruption Legal Framework for various agencies, audiences and sections of the society.
He has been nominated as a member of numerous task force and committees, both internal and external. He is national representative to the LEN (Law Enforcement Network) and nominated as one of the Governmental Experts of Bhutan to partake in the review and implementation process of the State parties of UNCAC (United Nation Convention Against Corruption).