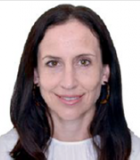 Senior Climate Change Specialist, Sustainable Development and Climate Change Departmen
Profile / Bio:
Ms. Hughes develops and manages programs and technical assistance projects to support climate-resilient low carbon development in developing member countries (DMCs). She also supports ADB's operations departments to enhance climate considerations in loans, TA projects and non-lending products and services. She also promotes multilateral and regional cooperation on climate change.
Prior to joining ADB as staff, Ms. Hughes consulted to ADB for over ten years. First as a long-term consultant in the Future Carbon Fund, followed by engagements as a Climate Technology Expert and for the Climate Investment Funds. Since 2015, she has consulted for the Carbon Market Program (CMP) and was most recently involved in the design and launch of the Article 6 Support Facility as well as scoping ADB's post 2020 carbon fund. Her ADB work was complemented by other consulting work following her passion for contributing to sustainable development in the region.
Ms. Hughes began her career as a graduate engineer for Bechtel in London. She then studied for her Masters and has since consulted in the fields of climate change, clean energy, and sustainable development throughout Asia and the Pacific for multilateral and bilateral agencies, governments, and public and private enterprises.