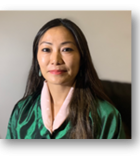 Principal Environment Specialist
Profile / Bio:
Karma is a Principal Environment Specialist in the Safeguards Review Division in the Sustainable Development and Climate Change Department (SDCC) of ADB. Karma is responsible for environment safeguards review of projects under the transport, agriculture, and private sector for selected operational departments at ADB. She also works under the Environmental Thematic Group (ETG) where she is the focal point for air quality management and green infrastructure. Before taking on her current role, Karma worked as the Environmental Specialist in the South Asia Transport and Communications Division of the ADB for 10 years from 2010 to 2020, where she prepared and implemented environment safeguards for over 45 projects. Many of these projects involved sensitive ecological issues. She led the production of two ADB publications on climate proofing transport infrastructure and green infrastructure design for transport projects. Prior to joining ADB, Karma worked for World Wildlife Fund Bhutan and as a freelance consultant in Bhutan and South Asia.
Karma is from Bhutan. She has a master's degree in environmental management from the School of Forestry and Environmental Studies at Yale University in the US and a bachelor's degree in science from Sherubtse College in eastern Bhutan.