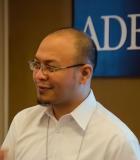 Profile / Bio:
Karl Lomibao is a seasoned change manager with over 15 years of experience in driving adoption and managing change. Throughout his career, Karl has demonstrated a unique combination of technical and interpersonal skills, making him an expert in navigating complex organizational changes. With a proven track record of success, Karl has helped organizations of all sizes to effectively embrace new technologies, processes, and ways of working.
One of Karl's most notable achievements is his support of the CMS application since its initial roll-out in 2009. Throughout this journey, he has demonstrated an unwavering commitment to ensuring the successful adoption of the technology by the organization. Through a combination of training, communication, and stakeholder engagement, Karl has helped countless individuals and firms to develop the skills and confidence needed to fully realize the benefits of the CMS.
Karl is the IT Adoption and Change Management Coach at Asian Development Bank (ADB).
He created and successfully implemented change management plans for the successful adoption of various IT systems in the bank. These plans include training, communications, and adoption measurement activities. I facilitated training and coaching sessions to staff and change champions for an easier transition to the changes that will be required in their day-to-day work.