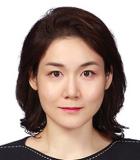 Senior Integrity Specialist
Profile / Bio:
Jung Min Han is a Senior Integrity Specialist of the Office of Anticorruption and Integrity (OAI) at the Asian Development Bank (ADB), leading the Proactive Integrity Review (PIR) team.  Proactive integrity reviews are intended to help executing agencies, implementing agencies and ADB to identify and develop preventive measures to mitigate risks of fraud and corruption, improve project management, enhance project implementation, and replicate lessons learned for future projects.
Prior to joining ADB, Jung Min pursued a career in risk management advisory services, internal and external audit at various international financial institutions and Big 4 accounting firms across the United States, Singapore, Hong Kong, and the Republic of Korea.
Jung Min holds a Master of Business Administration degree (Finance) from New York University, and a Bachelor of Science degree from University of Virginia (Commerce).  She is a U.S. Certified Public Accountant, Certified Information Systems Auditor, and Certified Internal Auditor.