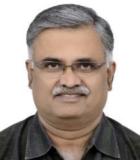 , Kerala Institute of Local Administration
Profile / Bio:
Presently the Director General of Kerala Institute of Local Administration (KILA). He is a medical doctor with Masters in Public Health (MPH) and MBBS. His areas of interest and expertise include Decentralisation and local governance, participatory planning, monitoring and evaluation, climate change and development, capacity development and institution development and knowledge management for development.
Dr. Elamon was one of the core team members of the People's Plan Campaign in Kerala when it was launched in 1996. Later he served as the Chief Programme Coordinator of SDC-CapDecK Programme (Capacity Development for Decentralisation in Kerala) at Swiss Agency for Development and Cooperation (SDC). Subsequently he became the Moderator of Decentralization Community of UN Solution Exchange of UN Country Team in India – community managed by UNDP and held the additional charge of Maternal and Child Health Community. He served Intercooperation Social Development India as its Chief Executive Officer and as Senior Advisor Local Governance in the Governance, Decentralisation and Peace Team (G&P) of Helvetas Swiss Intercooperation. Later, he was a Core team member and Technical Advisor for the South Asia Climate Proofing and Growth Development (CPGD) – Climate Change Innovation Programme (CCIP). He is a member of the Strategic Academic Advisory Board of School of Governance and Public Affairs (SGPA), Xavier University Bhubaneswar and a member of the Research Advisory Group of Integrated Rural Technology Centre (IRTC), Kerala.
Dr. Elamon had successfully completed a course on 'Climate Change and Health' at Institute of Public Health, University of Heidelberg, Germany. He was a National Resource Person of the Ministry of Panchayati Raj, India for decentralised participatory planning. He has also served in many committees set up by the Ministry of Panchayati Raj, India and the Government of Kerala. He was earlier included in the UNDP Democratic Governance Roster of Experts in Local Governance and Local Development. Dr. Elamon was awarded the Outstanding Community Builder award by UNDP India (Solution Exchange) in 2007. Dr. Elamon is a former Vice President of Kerala Sasthra Sahithya Parishad (People's Science Movement), State Convener of Jan Swaasthya Abhiyaan Kerala (People's Health Movement) and President of Kerala Sasthra Parishad (KSSP) Delhi Forum. He had also served as member of the Syndicate, Senate and Academic Council of University of Kerala.