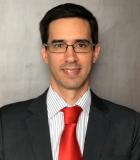 Regional Clean Energy Specialist and Coordinator
Profile / Bio:
João Aleluia works with ADB as Regional Clean Energy Specialist and Coordinator for the Greater Mekong Subregion. João has over 15 years of experience in sustainable energy, climate change, and waste management, having worked with international organizations such as the UNFCCC, UN-ESCAP and GGGI.
Prior to joining ADB, João was the regional technical advisor of the UNFCCC on carbon pricing instruments and market-based mechanisms for Asia-Pacific. João also worked for several years in the private sector, first as a management consultant with Arthur D. Little, and later as the managing director of a Beijing-based start-up company that developed greenhouse gas emission reduction projects in China. João holds a Ph.D. in Sustainable Energy Systems (MIT Portugal Program, 2018), a Master's in Energy Management (ESCP-EAP Paris, BI Norwegian School of Management & IFP French Petroleum Institute, 2008), and an MSc in Engineering and Industrial Management (University of Lisbon, 2004).