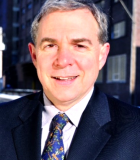 , Institute for Agriculture and Trade Policy (former president)
Profile / Bio:
Jim Harkness has worked on agriculture, environment, and rural development in the People's Republic of China (PRC) since the 1980s. He carried out field research and environmental education on behalf of the International Crane Foundation in the 1980s and early 1990s, including a year of field work in Tibet. He served as development and environment program officer for the Ford Foundation in Beijing from 1995–1999, providing grants for innovations and research on rural poverty alleviation and community-based natural resource management.
Mr. Harkness served as Chief Representative in the PRC for the World Wide Fund for Nature (WWF) from 1999 to 2005, re-orienting the organization's work in the country toward a focus on conservation and sustainable development in the Yangtze River basin, including intensive research and collaboration with major payments for ecosystem services (PES) programs in the region.
From 2006-2013, He served as president of the Institute for Agriculture and Trade Policy (IATP) in the United States, during which time IATP worked with private sector partners and farmers to develop a successful working lands program to incentivize sustainable farming practices.
He works as a consultant on agriculture and environment issues in the PRC and the United States, with a focus on facilitating international exchanges and learning to promote more sustainable and equitable farm and food systems.
Mr. Harkness received a bachelor's degree from the University of Wisconsin and a master's degree from Cornell University.