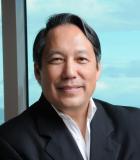 , Hybrid Social Solutions
Profile / Bio:
Jim Ayala has worked on economic development issues in emerging markets for 30 years in his various roles as a social entrepreneur, CEO of a publicly listed company, management consultant, and board member of a number of NGO organizations. He is the President and Founder of  Hybrid Social Solutions Inc. HSSI is a pioneering social distribution company that distributes, services, and finances a range of innovative products – e.g., solar-powered appliances and water purification devices – which enable disadvantaged families to move out of poverty. 
He is also the Chairman of Stiftung Solarenergie-Solar Energy Foundation Philippines, the Asian arm of the Stiftung Solarenergie International Network for Rural Development, a globally recognized pioneer in sustainable rural electrification that operates in Africa, Asia, and Europe. Jim is also the Manila-based Network Partner for Southeast Asia for Hystra Inc, a global hybrid strategy consulting firm.