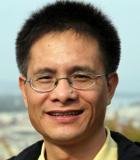 , Conservation Programme-Wetlands
Profile / Bio:
Dr. Jianbin Shi is an Advisor and Director of Conservation Program with the Paulson Institute, responsible for development and management of a high-impact portfolio of wetland conservation and restoration projects in China. Before joining the Institute in March 2016, Jianbin was the Head of TRAFFIC China Programme from May 2011 to September 2014, a Program Manager of UNDP China for EU-China Biodiversity Program from August 2006 to May 2011, and a Program Coordinator of TNC China Office from September 2004 to August 2006.
Jianbin started his professional career as a Project Officer with the Foreign Economy Cooperation Office (FECO) of the former State Environmental Protection Administration where he worked from June 1994 to February 1999.
Jianbin is also an Associate Professor of Beijing Normal University where he is teaching both graduate and undergraduate courses and conducting researches in conservation biology and wildlife ecology. He obtained his PhD from the University of Liverpool in 2004.
Jianbin believes that, by working together, we can make difference and can create a better world for co-existence of the nature and human-beings.