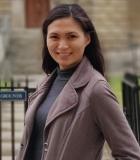 Health Security Expert Consultant
Profile / Bio:
Jeremy has an in-depth knowledge of the health, economic, and equity impact of vaccines. She has a strong knowledge of health equity, policy, and economics including economic evaluation. She has 10 years' public health experience, including seven years at WHO with two competitive promotions and two years' extensive pharmacy experience.
She is supporting enhanced COVID-19 vaccination and post-COVID-19 health security response in Southeast Asia and advancing Universal Health Care.
She is a Registered Pharmacist and holds a Master's degree in Master of Science Public Health for Development from the London School of Hygiene and Tropical Medicine, University of London. London School of Hygiene and Tropical Medicine, U. of London