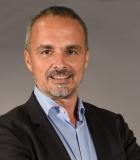 , Inter-American Development Bank
Profile / Bio:
Jean-Michel Baudoin, a citizen of France, is the Chief Information Officer and General Manager of the Department of Information Technology (ITE) at the Inter-American Development Bank. 
Throughout his career, Mr. Baudoin has worked in the fields of technology, digital transformation and information-management operations, defining and implementing strategic business plans in diverse industries, especially in the field of aerospace and defense and for large industrial consortiums. 
Prior to joining the Bank, Mr. Baudoin was the head of Information Management for Corporate Functions and Digital Enablement at Airbus Americas, where he led the digital transformation of Airbus for the North American region and developed and operated the Information Management Department for corporate functions, from strategy to operations.  Mr. Baudoin joined Airbus in 2010 in Europe as the head of the Information Management Common Solutions Department for Airbus Group and Airbus Commercial, covering IoT, RFID (radio frequency identification), integration, mobile, business intelligence, big data, document management, archiving, portal, collaboration and social network technologies. 
Prior to Airbus, he spent 13 years at Accenture as a senior IT director, working for large companies and consortiums around Europe, such as EADS, ArcelorMittal, British Gas, Tesco, Bahlsen, and BNP-Paribas in France, Luxembourg, Germany and the UK.
Mr. Baudoin holds a master's degree with honors in engineering and information management from the Superior School of Electrotechnics and Electronic-ESIEE in France.