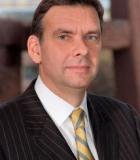 , European Investment Bank
Profile / Bio:
As independent Inspector General of the EIB, Jan Willem van der Kaaij is responsible for Fraud Investigations, Operations Evaluation and the Complaints Mechanism. His previous professional experience includes senior positions with the Dutch Ministry of Finance and the Central Bank, as well as assignments at Boards of the EIB, the World Bank and the International Monetary Fund.
He holds a Master's degree in History from the University of Groningen and has published articles on evaluation issues, the European Monetary Union (EMU), the International Monetary Fund (IMF), and "De Nederlandsche Bank".