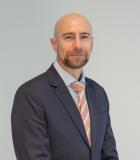 , Public Utilities Board: Kiribati
Profile / Bio:
James Young led the utility in delivering key services to customers on South Tarawa and promote a culture of learning, safety, and excellence within the utility. He also led the utility in a performance improvement process resulting in a more efficient, safer utility where staff is qualified, supported by training, and empowered in their career pathway within the organization.
He also implemented a strategy to achieve financial sustainability of the utility ensuring strategic and business plans are effectively implemented, results are monitored and reported to the PUB Board, and financial and operational objectives are achieved.