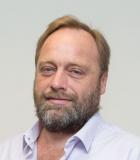 Director, STEM Digital Innovation Centre
Profile / Bio:
James Harland is a Professor at RMIT, where he has been teaching a variety of subjects at RMIT since 1994.
Prof. Harland was awarded a Carrick Citation for Outstanding Contribution Student Learning in 2007, and in 2019 was admitted as a Senior Fellow in the Higher Education Academy of the UK. He has experience as an Associate Dean Student Experience and as a Deputy Dean Learning & Teaching.
In January 2021 he was appointed as the Director of the new Centre for Digital Innovation in the STEM College, which aims to develop world-leading practice in STEM teaching through digital innovation.
Twitter: @placid_platypus