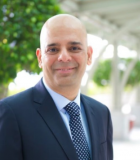 Director, Infrastructure Finance (East Asia, Southeast Asia & The Pacific)
Profile / Bio:
Jackie Surtani has over 25 years of successful experience in Asian infrastructure lending and advisory experience. He has a strong credit philosophy and sector experience across the entire energy chain (i.e. power generation, renewable energy, LNG, petrochemicals), infrastructure and telecommunications, and extensive regional knowledge. 
He began his career at Chase Manhattan (now JP Morgan) as Director of Global Power and Project Finance; was a Director for Global Project Finance in Credit Suisse; and Head of Project Finance Asia Pacific at KBC Bank for 14 years. Mr. Surtani led the risk function of Siemens Financial Services' Asian Commercial Finance Unit as Regional Chief Risk Officer responsible for a team of 80 staff in China and in India. He also was a Senior Investment Specialist for the same division in ADB responsible for project finance transactions in Indonesia, Malaysia, and the Pacific Islands. 
Mr. Surtani obtained his Bachelor of Science Degree in Business Finance and Economics from the University of East Anglia in 1988 with a First Class Honours degree. He obtained his Master of Philosophy Degree in Management Studies from the University of Oxford in 1990.