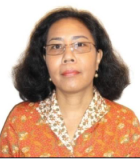 Profile / Bio:
Indira Simbolon holds a Master in Law, an MA in Development Study, and a PhD in Socio-legal Studies from the Netherlands.
A leading expert on Indigenous Peoples, Indira Simbolon joined ADB in 1999, a year after the adoption of its first Policy on Indigenous Peoples. She is the principal author of the 2009 Safeguard Policy Statement SR3 (Indigenous Peoples), during the policy update of which Indigenous Peoples were consulted and their views incorporated. For many years she coordinated ADB corporate level work on social safeguards, among others: reviewing various complex sovereign and non-sovereign projects, delivering training and capacity building, incorporating social safeguards into Piloting Results-Based Lending, co-leading the first ADB team for "Strengthening and Use of Country Safeguard System", and producing publication on "Indigenous Peoples and Poverty Reduction" and "Mainstreaming Indigenous Peoples Concerns in Development".
Prior to joining ADB, Dr. Simbolon was a Legal Advocate in Indonesia, an Advisor to the Development Program Committee of the Lutheran World Federation in Geneva, and a lecturer on "Gender and Development" at Leiden University in the Netherlands.
She left her position as Principal Safeguards Specialist in ADB in May 2021.