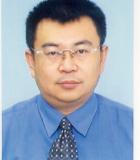 World Wide Fund for Nature (WWF US)
Profile / Bio:
Dr. Hu Tao is the director of the China Program, World Wide Fund for Nature (WWF US), and the president of the Professional Association for China's Environment (PACE). He once worked as a senior research fellow of the World Resources Institute, a senior research fellow of the Policy Research Center of the Ministry of Environmental Protection (MEP) of the People's Republic of China, project coordinator for the UN-China Partnership on Climate Change during 2009–2010, key expert of the China Council for International Cooperation on Environment and Development during 2001–2007, chief expert of the MEP Task Force on Environment and Trade, and adjunct professor of the Beijing Normal University and Qingdao University of Science and Technology.
As an expert on environment and economic policies, he consulted for the World Bank, the Asian Development Bank, the Global Environment Facility, the United Nations Development Programme, the United Nations Environment Programme, and the United Nations Economic and Social Commission for Asia and the Pacific, among others, in the fields of environmental economics, environmental policy and institution, trade and environment, synergy of air pollution and greenhouse gas emission control, and regional and global environmental issues.