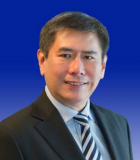 Profile / Bio:
Hock-Chye Ong ( 王 富 财 ) is the Auditor General of the Asian Development Bank (ADB). He joined ADB in April 2013.
Dr. Ong is responsible for ADB's internal audit function that provides independent and objective audit and advisory services designed to add value and improve ADB operations. The function provides assurance to the President and the Audit Committee of the Board that ADB's financial and operational controls designed to manage risks and  achieve ADB's development objectives are operating in an efficient and effective manner.Dr. Ong has over 30 years of broad-based international experience in governance, risks, and internal control. Prior to joining ADB, he held diverse leadership positions in both public and private sector organizations. These positions include: Chief at the United Nations Development Programme (UNDP) Office of Audit and Investigations in Bratislava, Slovak Republic; Head of the Audit Quality &  Strategy Team at the World Bank Group Internal Auditing Vice Presidency in Washington D.C.; Director of Internal Audit at the CGIAR (formerly   the Consultative Group for International Agricultural Research) in Los Baños, Philippines; Senior Auditor at the World Bank Group; and Manager at Ernst & Young, Kuala Lumpur, Malaysia.
A Malaysian national, Dr. Ong holds a Doctor of Philosophy from University Sains Malaysia. He is a Certified Public Accountant, Certified Internal Auditor, and a Certified Information Systems Auditor.