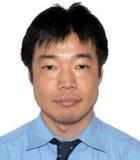 Director, Transport and Communications Division, Southeast Department (SETC)
Profile / Bio:
Hiroaki Yamaguchi has 25-year experience of in relevant professional works in transport policy/planning and engineering both in public and private sectors, including 17 years with ADB in South and Southeast Asian countries. 
He served as Director, Transport and Communications Division in Southeast Asia Department since 2017 and in South Asia Department (2014-2017) to overseas transport and communications sector in the Southeast region and in South Asia region, respectively, where he ensured the project delivery, covering various transport subsectors, together with improved contract awards and disbursement. Prior to this directorship, Mr. Yamaguchi was with South Asia Department, serving as mission leader for transport infrastructure projects, and as Unit Head, Project Administration. Mr. Yamaguchi also contributed to the ADB-wide reform initiatives as taskforce member: procurement reform taskforce and Strategy 2030 Mid-term Review Working Group (Project Implementation and Procurement). 
Prior to joining ADB, he worked as a consultant for transport planning/projects in Southeast Asian countries, Australia and Japan, including PPP projects; and with public transport agencies on the bus and railway planning/projects in Australia.